Realtors: Braidy development project holds huge potential
by Glenn Puit and Rachel Adkins The Daily Independent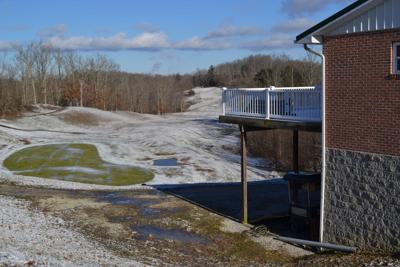 Braidy Industries' plans to purchase a large swath of land for real estate development in Flatwoods is being viewed as a major event for the city — and is also creating a lot of excitement about the real estate market in the Tri-State region.
Flatwoods Mayor Ron Fields said Monday morning the proposed development of the Oaks golf course property in the city — announced by Braidy over the weekend — is a significant event for the municipality.
"We do need homes and housing for middle income people and they (Braidy) want to help get that through because there's going to be a lot of people in the area working, hopefully two or three years down the road, so I think it's…a great thing," Fields said.
Braidy Industries Chief Executive Officer Craig Bouchard announced late Friday night on social media that Braidy was, in fact, the successful bidder for the Oaks golf course property in Flatwoods. The bid for the property was made under the company name of AL Greenup, LLC. for $996,600 during a recent auction. The deal is expected to close in March.
Braidy said Monday work on the plan for the property will commence after the closing and that Braidy executive Nathan Haney will run the company's real estate subsidiary. Work will include "creation a master community design targeted at employees, attracting young families to fill newly created jobs in the area, and providing opportunities to keep our own young families here. We expect that master plan to be completed by the end of this year."
Braidy said it expects to seek a lot of input from community leaders before a plan for the property is finalized.
"The plan will indeed consist of residences that start near $150,000 and rise to higher levels," Braidy said in an email to the newspaper. "We will investigate having a commercial component. Think coffee shop, health, leisure, and education. The community will be designed with family health and safety as a priority. The golf course will remain and be improved over time. It will eventually become an affordable private club for residents, employees and others in the area."
Fields said Flatwoods has some of the lowest taxes in the area, referring to the city's water and sewer rates, and that the city also does not have an occupational tax, making it an attractive landing spot for new residents who come to the Tri-State because of Braidy's planned manufacturing facility at the EastPark Industrial Center.
"Our area is going to be improving and it's going to be great," the mayor said.
The Oaks Golf community, located in Flatwoods, is a valued property in Greenup County. It consists of 714 acres with an 18-hole golf course, a 3,300-square-foot clubhouse, driving range and a pavilion. The community also has 25 ready-to-build lots for houses, along with 68-acre and 15-acre tracts for development and a 482-acre wooded tract.
The Daily Independent talked to five local real estate experts Monday on their reaction to the purchase. All were optimistic about the potential the project brings. Bea Rice, co-owner of the Flatwoods branch of Ross Real Estate Services, said there is a very small inventory for new construction properties and Braidy developing the Oaks property is welcome news.
"People coming from other areas are used to having planned community neighborhoods," Rice said, adding there is not a lot of new construction on the market.
"We have a lot of existing homes but our inventory for sale is low," Rice said.
Jody (Tussey) Goats, principal broker and owner of Century 21 Brooks Wells Enterprises, said she sees a successful Braidy operation holding the potential to make "a big change in our market."
"I think it is going to be a very positive impact," she said. "If there is additional housing created, our area has a limited supply, and nearly no supply, of newer properties."
Marilyn Mason is the principal broker and owner of Executive Properties. She said "our area is always craving beautiful land for building purposes."
"During the last quarter of 2018 and in January we closed several upscale homes right in the area of the Oaks property," Mason said. "It is a popular place for people to purchase."
Mason said despite a string of industrial plant closings in the region over the years, the region's real estate market has remained strong.
"I think the public would be amazed at how strong the real estate market is in our area," she said, adding "Most if not all of our truly high-end sales that have occurred above half million — those have been local business people from Ashland and surrounding areas."
Cindy Conley-Jones is a realtor with Re/Max Real Team Realty. She, too, said demand for new construction is very strong.
"When we have people move in town they are relocating with Marathon, CSX and hospitals, and most of them are moving in looking for newer housing," Conley-Jones said. "We don't have newer housing. They are all looking for newer construction and with Braidy coming in we will not have enough housing, period. Both new and existing."
The Tri-State area is already coming off a record year for real estate. Through November of 2018 residential home sales had already set a record. Statistics from the Ashland Area Board of Realtors show through November 2018, 978 properties were sold. That was 20 more than the all-time record of 958 in 2015. It is also up 16 percent from 2017 when 842 units were sold.
Braidy, meanwhile, continues to move forward with its plans to construct a major aluminum and alloy manufacturing facility at EastPark. The project, when complete, is expected to create some 600 jobs.
Bouchard made the announcement about the Oaks property on social media Friday night.
"I'd like to mention first to my friends that Braidy was the high bidder and acquired The Oaks last week," Bouchard said. "Closing is March 8 and there will be some press then. Our acquisition includes the public golf course and 700 acres of additional gorgeous acreage."
Bouchard described the company's big-picture intentions with the purchase.
"For some time I've been wondering where young people and their families are going to want to live in the next generation of our community. Quite a few companies and a couple thousand employees will eventually surround the mill, and that doesn't include a replacement for AK Steel. There isn't enough housing and infrastructure for young families.
"We need to design and build a community that will attract young families to Ashland and encourage our incredible young people to get married and stay here," he said.
"So I'd like to mention first to my friends that Braidy was the high bidder and acquired The Oaks last week. Closing is March 8 and there will be some press then. Our acquisition includes the public golf course and 700 acres of additional gorgeous acreage.
"Message to all: Please be patient. Expect no big changes until we make a plan, create an architectural design, and then build a very nice community. It will take a couple of years. It will be impressive."
Greenup County Judge Executive Bobby Carpenter said development of the Oaks property is major news for the county.
"It shows their dedication to our area," Carpenter said. "They are seeing there are only so many houses and there are going to have to be some new neighborhoods."
Carpenter said he's pointing to the project as proof that the Braidy project is on track.
"It kind of shows they are serious, doesn't it?" Carpenter said.
Braidy said in an email to the newspaper "Braidy Industries remains in an open SEC securities window and may not comment on fundraising during this window other than the previous announcement that we have received over $1 billion of interest in our $500 million equity offering. We filed our S-1 to list Braidy Industries as BRKY on the Nasdaq, and we are contemplating doing so in the middle of this year."
(606)326-2648|